OHP Develops first PGR iOS Application
OHP develops PGR App for Apple iPhone® and iPad®.
Edit: A new version of the popular PGR Calculator has been updated on iTunes. (v2.0)
OHP Inc. announces the introduction of its first iPhone application – designed for Apple iPhone®, iTouch® or iPad® users. The PGR Calculator Application is available immediately at no charge through the iTunes® Application Store.
"We wanted to develop a tool that takes the guess work out of the equation when it comes to calculating and applying PGRs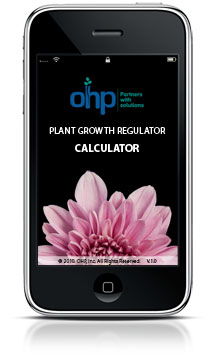 (Plant Growth Regulants) in the field," notes Dave Barcel, OHP senior technical manager and PGR expert. "It's as easy as making a phone call on the iPhone." PGR Calculator will allow the user to look up current PGR rates in ppm for spray or drench applications. The grower then enters the desired dose and the size of the application area (L x W) or the number of pots for a drench and the App calculates the amounts of solution and product needed. "A simple tool like this takes the guess work out of PGR applications and calibration. It's easy and accurate," adds Barcel.
As a new generation of growers begin to adopt technology into their work practices, applications like the PGR calculator will become useful tools, says Dan Stahl, OHP vice president of marketing and business development. The application allows growers to perform rate calculations for the OHP stable of PGRs, including Augeo™, B-Nine®, Cycocel®, and Paczol®.
"The PGR Calculator Application is further evidence of OHP's stated goal of providing solutions to the ornamental industry," says Stahl. OHP will continue to seek cutting-edge technologies to improve its communications with growers and distributors, adds Stahl.
"This is another industry evolution delivering useful technology to our market which we see as invaluable," says Stahl.
Click here to download the NEW OHP PGR App. (Must have iTunes installed on your computer)