OHP Fortress herbicide – Now registered in California!
OHP, Inc. is pleased to announce the California state registration of Fortress® Ornamental Herbicide.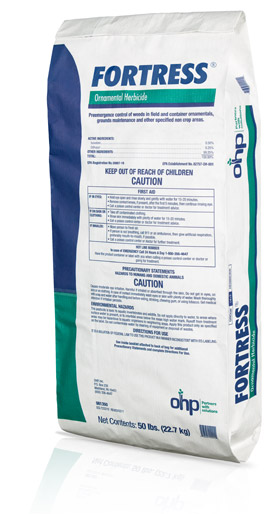 Fortress is now available for sale through authorized OHP distributors in California as well as in other states.
Fortress is a unique combination of the active ingredients isoxaben and dithiopyr formulated on a user-friendly engineered granule that provides virtually no dust and low odor. Personal Protective Equipment (PPE) requirements are minimal for the applicator.
The Fortress granules are uniformly round and do not hang up in crop canopy, resulting in better coverage and performance.
The specimen label lists many desirable perenn0ials, ornamental grasses, and woody plants that are tolerant to Fortress. Among the troublesome broadleaf and grassy weeds controlled by Fortress are crabgrass, eclipta, bittercress, oxalis, marestail, spurge, purslane, and others.
OHP is a leading provider of pest control solutions to the production ornamental and horticultural markets.
Click here for current state registrations, label, SDS and product information.
Tags:
dithiopyr
,
fortress
,
herbicide
,
isoxaben
,
nursery
,
ornamental