Let OHP help build your herbicide rotation plan.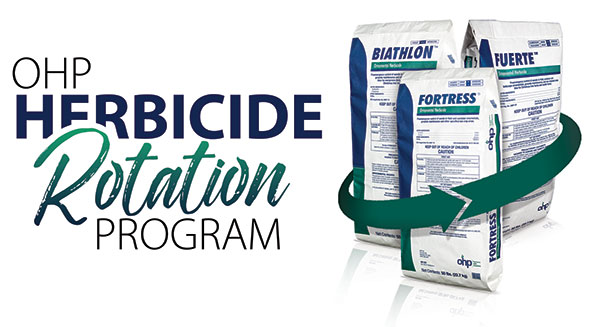 A quality pre-emergent herbicide works to prevent weeds from germinating. Choosing the correct product(s) and using them properly is not so simple. Herbicide performance is a matter of application rate, environmental conditions, watering practices, and frequency of use.
Overuse of a particular herbicide may set the stage for herbicide resistance. Herbicide rotation is critical in getting the most out of a weed control program.
It is important to rotate MOA (Mode of Action) with herbicides just as with insecticides. Rotating MOAs will help prevent the creation of dominant weed species based on its tolerance to particular MOAs.
OHP has developed a wide range of granular herbicides designed to meet different grower needs, seasons, and crops. OHP herbicides are formulated on a uniform and dustless granule. These unique premium formulations increase delivery accuracy, and provide cleaner conditions for applicators and excellent plant tolerance.
For more information on herbicide rotation, weed identification and control, contact your Regional Technical Sales Manager.
Tags:
Biathlon herbicide
,
Fortress herbicide
,
Fuerte herbicide
,
herbicide rotation