OHP adds Grotto Fungicide to biosolutions portfolio
OHP, Inc., announces the addition of Grotto™ Fungicide/Bactericide to its leading stable of pest control solutions for the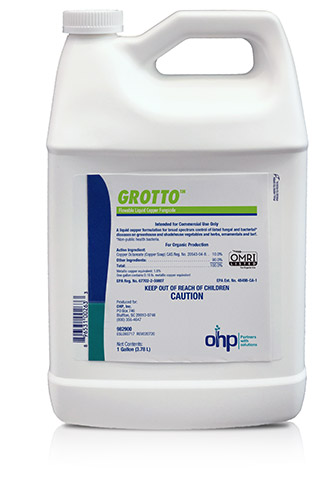 ornamental industry.
Available immediately, Grotto is a high-quality copper octanoate, broad-spectrum fungicide that has activity on many greenhouse and nursery fungal and bacterial diseases.
Labeled for use on ornamentals plus vegetables and herbs grown in greenhouses, shadehouses, and nurseries. Grotto has a 4-hour Restricted Entry Interval (REI), Caution signal word, and OMRI (Organic Materials Review Institute) listing.
"Grotto fits well in our biosolutions® segment and fulfills a grower's need for shorter REI products and broadly-labeled products," says Dan Stahl, OHP vice president and general manager. "Growers are demanding more products with 4-hour REIs."
Grotto is labelled for control of several challenging fungal and bacterial diseases such as bacterial leaf spot and blight, botrytis, downy mildew, fire blight, fungal leaf spot, powdery mildew, and rhizoctonia, on many ornamentals.
"With Grotto and Kalmor® Fungicide/Bactericide in our biosolutions product portfolio, we now offer a broad range of copper-based solutions for our grower customers," says Stahl.
OHP is a leading supplier of pest control solutions to the greenhouse and nursery markets.
Tags:
biosolutions
,
copper octanoate
,
fungicide
,
OMRI