OHP Introduces Disarm® O Fungicide
OHP, Inc. announces the introduction of Disarm® O Fungicide to the production ornamentals market.
Disarm O is a broad-spectrum foliar and drench systemic fungicide that offers control of many troublesome foliar diseases as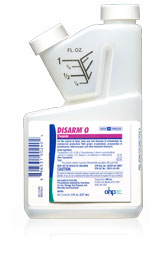 well as soil-borne diseases such as rhizoctonia and phytophthora. Among the foliar diseases controlled by Disarm O are anthracnose, powdery mildew, rusts, and leaf spots. Disarm O may be used on plants growing in containers, benches, flats, plugs, and beds in greenhouses, shadehouses, nurseries, and interiorscapes. Rigorous testing has shown excellent plant safety.
Disarm O, a member of the strobilurin class of fungicides (MOA Group 11), delivers unique benefits to the grower, notes Jeff Dobbs, OHP director of technical services. "Most strobilurins are strongest as foliar disease control products. Disarm O is not only strong as a foliar disease control product but also offers control of soil-borne diseases as well," states Dobbs. OHP will continue to add additional soil-borne diseases to the Disarm O specimen label. "We are proud to bring yet another winning product to the horticulture market," notes Terry Higgins, OHP vice president and general manager. "Our goal is to continue to add grower solutions to our product portfolio."
OHP is a leading marketer of pest control solutions to the production ornamentals market. For more information on Disarm O, click here.