OHP Introduces Sirocco™
OHP, Inc. announces the immediate availability of Sirocco Miticide/Insecticide to the production ornamentals market.
Sirocco is a unique broad-spectrum miticide and insecticide that provides growers with an effective tool for many hard to control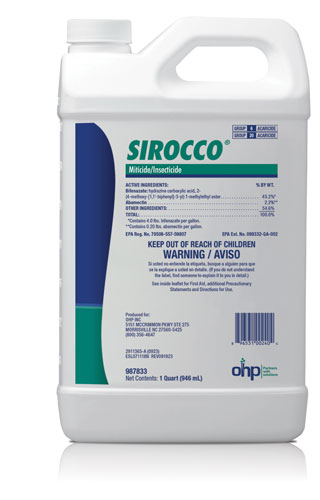 greenhouse and nursery pests.
Sirocco provides control of a variety of mites including two-spotted spider mites, spruce spider mites, cyclamen mites, broad mites, bud mites, and southern red mites. Additionally, Sirocco provides control of insects such as leafminers as well as suppression of aphids, thrips, and whiteflies. Sirocco, a unique combination of bifenazate and abamectin, provides growers with two different modes of action, notes Jeff Dobbs, OHP director of technical services. "Growers will note fast activity on a broad-spectrum of mites with Sirocco and in addition, translaminar activity," notes Dobbs.
Sirocco can be used on ornamental plants such as bedding plants, foliage plants, bulb crops, perennials, and shrubs and trees, including non-bearing fruit trees grown in greenhouses, shadehouses, nurseries, landscapes, and interiorscapes. Testing has shown excellent plant safety. "We are excited about the level of mite control that Sirocco provides our grower partners", says Terry Higgins, OHP vice-president and general manager, "Sirocco is a great addition to our current portfolio of mite and insect solutions." OHP is a leading marketer of pest control solutions to the production ornamentals market. For more information on OHP or Sirocco, click here.