OHP introduces Strike® Plus Fungicide
OHP, Inc. is pleased to announce the immediate availability of Strike Plus Fungicide to the production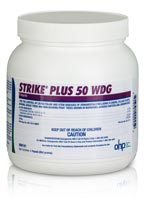 ornamentals market through authorized distributors.
Strike Plus contains two active ingredients for dual modes of action (MOA), giving more broad-spectrum control of troublesome foliar diseases.
"Strike Plus is a broad-spectrum fungicide that can be used both inside and outside and as preventive or curative. The user simply adjusts the rate accordingly," notes Dr. Carlos Bográn, OHP technical manager.
The product contains triadimefon, the active ingredient in Strike® 50 WDG fungicide, plus trifloxystrobin, the active ingredient in Compass® O fungicide.
With the combination of a sterol inhibitor (triadimefon) and a strobilurin (trifloxystrobin), Strike Plus provides comprehensive control of many diseases including powdery mildew, rusts, anthracnose, leaf spots, botrytis, boxwood blight, and others.
The combination lessens the high resistance potential that users may face when repeatedly using a strobilurin fungicide by itself.
"If resistance to strobilurin chemistry is an issue, growers can mitigate that with the use of Strike Plus," notes Bográn. "It's a good fit into a resistance management rotation."
OHP will phase out Strike 50 WDG but will maintain federal and state registrations for a period of time so growers can use up existing stock.
OHP is a leading marketer of pest and weed control solutions to the production ornamentals market. For more information on Strike Plus, click here.
Tags:
anthracnose
,
botrytis
,
Boxwood Blight
,
broad-spectrum
,
foliar disease
,
fungicide
,
leaf spots
,
New
,
OHP
,
powdery mildew
,
rust
,
Strike Plus
,
triadimefon
,
trifloxystrobin