OHP introduces granular Marengo herbicide
OHP, Inc. has followed up its successful launch of Marengo® liquid pre-emergent herbicide with the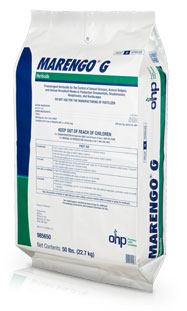 introduction of Marengo G, a granular formulation with the same effective active ingredient, indaziflam.
Marengo G offers production ornamental growers many of the same features as Marengo SC including consistent plant safety, broad-spectrum weed control, and long-term residual.
The Marengo G label allows for application to containers in nurseries, and hoop and shade houses.
"We're pleased to introduce a granular version of Marengo to the market after the successful launch of Marengo liquid," notes Terry Higgins, OHP vice president and general manager. "Marengo G features all the benefits of indaziflam in an easy-to-apply granular formulation for over-the-top applications."
Marengo G offers effective, long-term selective pre-emergent control of both broadleaf and grassy weeds with little effect on desirable plant species. The product does not volatilize and does not move in soil once watered-in after application.
"With the new formulation, growers in container and field nurseries may now use the product for over-the-top applications," says Dan Stahl, OHP vice president of marketing and business development.
Marengo contains the first active ingredient from MOA (Mode of Action) Group 29. The active ingredient prevents weed seed germination by inhibiting cellulose biosynthesis.
California and New York state registrations are pending.
OHP is a leading marketer of pest and weed control solutions to the production ornamentals market. For more information on Marengo G, please visit http://www.ohp.com/Products/marengo_g.php
Tags:
bayer
,
best
,
excellent
,
granular
,
herbicide
,
indaziflam
,
long-term
,
marengo
,
marengo g
,
moa 29
,
OHP
,
ornamental
,
pre-emergent
,
production
,
weed
,
weed control