OHP Introduces Veranda™ O
OHP introduces Veranda™ O fungicide to ornamental market
OHP, Inc., a leading marketer of pest control solutions for the production ornamentals market, announces the introduction of Veranda O, a unique fungicide for the grower. Veranda O provides environmentally-friendly control of hard-to-control diseases such as alternaria blight, anthracnose, botrytis, fusarium, powdery mildew, sclerotinia, and rhizoctonia root and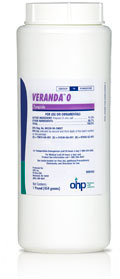 crown rot.
Veranda O contains the active ingredient Polyxin, a natural antibiotic and fermentation product of a soil bacterium, according to OHP Director of Technical Services Jeff Dobbs. "In addition to providing control of many problematic diseases, the active ingredient in Veranda O has an extremely favorable toxicological profile," notes Dobbs. "It has no toxicity to land mammals, insects, or birds, and degrades rapidly – within two to three days — in the environment." Veranda O is designated as a biochemical fungicide by the United States EPA Bio-Pesticide Division.
Veranda O features a unique mode of action, preventive and curative activity, long-term residual control, and locally systemic activity. As an easy-to-use water dispersible granule (WDG) formulation that leaves little residue, Veranda O may be used in greenhouses, lath and shadehouses, interiorscapes, and field and container nurseries. In addition to ornamentals, Veranda O will soon be labeled for use on cucurbits, fruiting vegetables, pome fruits, and strawberries grown under cover.
Veranda O carries a 4-hour Restricted Entry Interval (REI) and a Caution signal word. With the addition of Veranda O, OHP now features 13 fungicide brands in its family of products. Growers should use Veranda O as part of a resistance management strategy that includes rotation with other fungicides with different modes of action. For more information on Veranda O click here.