OHP launches new Segway® O Ornamental Fungicide
OHP Inc. announced today that it has entered into a marketing partnership to add Segway® O Ornamental Fungicide to its product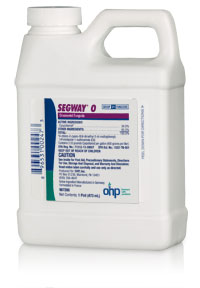 portfolio.
As part of the agreement with ISK Biosciences Corp, OHP will provide sales and technical support beginning May 19 for Segway O to production ornamental growers. Segway O provides excellent control of oomycete diseases such as pythium, phytophthora crown and root rot, phytophthora aerial blight, and downy mildews.
"We're thrilled to add Segway to our product portfolio," said Dan Stahl, OHP vice president of marketing and business development. "It's a great fit into a rotational disease control program with our existing fungicides Aliette® and Terrazole®."
Cyazofamid, the active ingredient in Segway O, is a proprietary product of ISK and is the only member of fungicide Mode of Action (MOA) Group #21, making it an ideal candidate for inclusion into a disease control rotational strategy, noted Dr. Carlos Bográn, OHP technical manager for insecticides and fungicides.
Effective as a spray or drench, Segway O provides control of 7 to 28 days, depending on disease pressure, noted Dr. Bográn.
OHP will deliver Segway O in a convenient 16 oz. container that accommodates the average greenhouse and nursery user.
"We're excited to form another partnership with an outstanding technology provider, ISK Biosciences," said Terry Higgins, OHP vice president and general manager. "With the power of the OHP brand and our marketing, sales, and technical support, we expect Segway O to become fully established in the greenhouse and nursery markets in short order."
OHP, Inc. is a leading supplier of pest control solutions for the ornamental industry.   ISK Biosciences Corp. is a 100% owned subsidiary of Japan based Ishihara Sangyo Kaisha Ltd. (ISK)
(Segway is a registered trademark of Ishihara Sangyo Kaisha, Ltd. Aliette is a registered trademark of Bayer Corp. Terrazole is a registered trademark of Chemtura Corp.)
Tags:
disease control
,
Fungicie
,
ISK
,
MOA 21
,
ornamental
,
Segway O