OHP adds Sarisa Insecticide to portfolio
OHP is excited to announce the introduction of Sarisa™ Insecticide, a revolutionary new product for broad-spectrum control of insect pests on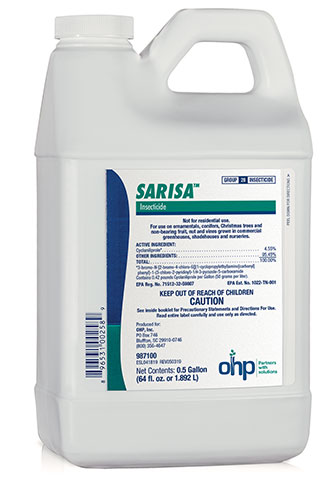 ornamental greenhouse and nursery stock.
The active ingredient in Sarisa, cyclaniliprole, provides extended residual protection against key nursery and greenhouse pests such as thrips, beetles including flea beetles and Japanese beetles, armyworms, gypsy moths, loopers, plant bugs, lace bugs, and leafminers.
"Sarisa offers many attributes that make it an outstanding product to use today and into the future and we're happy to introduce another tool to help both our nursery and greenhouse grower customers manage their insect control," says Dan Stahl, OHP vice president and general manager.
A diamide insecticide, Sarisa provides quick knockdown and residual activity of sucking as well as chewing insects with its novel mode of action and has a 4-hour Restricted Entry Interval (REI).
The active ingredient in Sarisa assists in the conservation of many beneficial insects such as predatory mites, parasitic wasps, and lady beetles, notes Dr. Carlos Bográn, OHP manager technical services.
"The selectivity of the active ingredient allows beneficial insects and other arthropods to continue to manage secondary pests," says Dr. Bográn, making Sarisa compatible with IPM and resistance management programs.
Sarisa is formulated as a user-friendly soluble concentrate that may tank mixed with appropriate partners. The use of a spreader sticker may help performance.
Click here for the latest state registrations, label, SDS and Sarisa product information.
Tags:
armyworms
,
diamide
,
flea beetles
,
gypsy moths
,
insecticide
,
japanese beetles
,
lace bugs
,
leafminers
,
loopers
,
plant bugs
,
thrips