OHP FireWorxx herbicide now available
FireWorxx™ is a OMRI-listed post emergent herbicide for control of weeds in greenhouse, nursery and landscape ornamentals,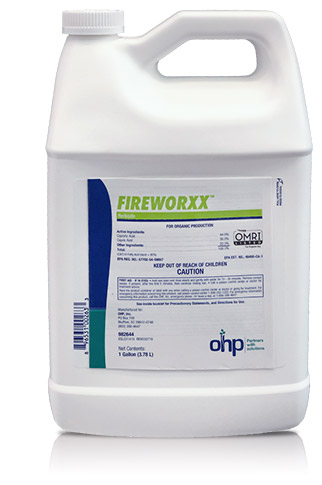 grounds maintenance, and non-cropland areas. FireWorxx is a fast-acting, non-selective broadleaf weed, grass, algae and moss killer. FireWorxx is not translocated. It will burn only those plant parts that are coated with spray solution.
FireWorxx can be used any time during the year and works best during sunny, warm and dry conditions. Application during cold weather may delay appearance of plant damage. If rain falls within 3 hours of treatment, an additional spray may be required. FireWorxx controls many common annual weeds and suppresses the growth of biennial and perennial weeds. It can be used in cultivated areas prior to planting crops. Treated areas can be re-planted as soon as desirable level of weed control is obtained.