OHP Pedestal Insecticide – New changes!
There are some key changes upcoming with OHP's Pedestal® Insecticide, an effective insect growth regulator against Thrips and other pests.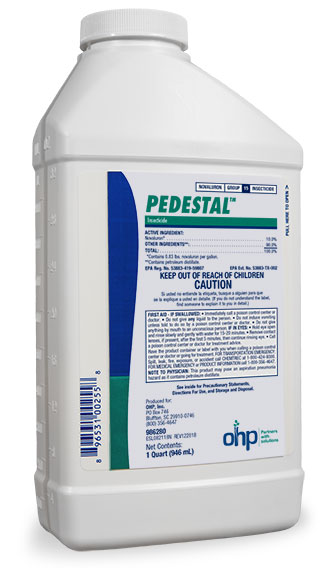 Effective immediately, any new Pedestal produced and purchased will have a new EPA registration number, new product code, and be packaged in OHP packaging. State registrations for the current Pedestal will be maintained for the near future so that distributors and growers may exhaust their inventory.
The new EPA registration number is 53883-419-59807. Package size, use rates, REI of 12 hours, and insects controlled remain the same.
Pedestal, with the active ingredient novaluron, is a suspension concentrate formulation labeled for use on ornamentals and tomatoes grown in greenhouses and nurseries. Among the insects controlled are thrips, whiteflies, armyworms, stink bugs, and more.
California registration is pending.
Please contact your local OHP regional sales manager with any questions you may have and thank you for your support.
Tags:
greenhouse
,
insecticide
,
nursery
,
ornamental
,
Pedestal