OHP Introduces Shuttle® O Miticide
OHP introduces Shuttle® O miticide to ornamental market
OHP, Inc., a leading marketer of pest control solutions to the nursery and greenhouse markets, announces the introduction of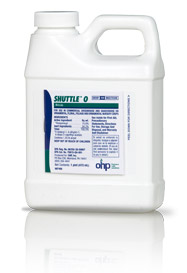 its latest addition to the OHP portfolio of quality product. Shuttle O miticide is now available as a high-quality miticide for control of several key mite species. "We are excited to be adding yet another quality miticide to our portfolio of products," notes OHP Vice President and General Manager Terry Higgins. "With the addition of Shuttle O to our line which already includes Floramite®, Judo™, Kontos™, and Triact®, we are by far the market leader in the mite control segment."
Shuttle O features several key features that fit well into an IPM program, notes Dan Stahl, OHP vice president of marketing and business development. "Shuttle O is a miticide for the 21st century with the many positives it offers such as rapid knockdown, Reduced Risk classification, activity on all life stages, long residual control, and a unique mode of action," says Stahl. "In addition, Shuttle O is soft on beneficial insects." Shuttle O is effective on a wide range of mite species including two spotted spider mites, spruce spider mites, citrus red mites, European red mites, and Pacific spider mites, and several others.
Shuttle O, with active ingredient acequinocyl, is the only member of Mode of Action (MOA) group #20 (electron transport inhibitors), which makes the product a great addition to any mite control rotational strategies.
Labeled for use in greenhouses, field and container nurseries, and interitorscapes, Shuttle O has been tested on many plant species and has been shown to be safe on even tender plant material. Shuttle O is a suspension concentrate (SC) formulation and carries a 12-hour Restricted Entry Interval (REI) and a Caution signal word. For more information on Shuttle O click here.