OHP launches new Marengo® herbicide
OHP Inc. is proud to announce the introduction of Marengo® Herbicide to growers in the production ornamental market.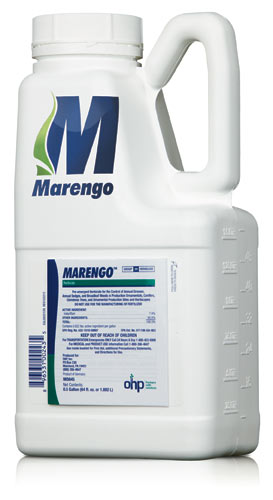 Marengo has received its federal EPA registration and is undergoing the state registration process.
Marengo, with the exciting new active ingredient indaziflam, is a selective pre-emergent herbicide that offers long-term residual control of both grassy and broadleaf leaves.
"We are thrilled to add Marengo to our expanding herbicide portfolio," notes Dan Stahl, OHP vice president of marketing and business development. "Marengo offers unparalleled residual control of many hard-to-control weeds with impressive plant safety."
Marengo contains the first active ingredient from MOA (Mode of Action) Group 29. The active ingredient prevents weed seed germination by inhibiting cellulose biosynthesis. Marengo does not move once applied to the soil and does not volatilize.
Marengo is registered for use on production ornamentals grown in outdoor nurseries, as well as on conifers, Christmas trees, and ornamental production sites and hardscapes. Marengo is labeled for use in shade houses and hoop houses as well.
"Marengo offers extended broad-spectrum weed control of up to eight months in nurseries but also in extended use sites such as hardscapes and hoop houses," notes Dave Barcel, OHP senior technical manager. "It's extremely active at low use rates."
Marengo use rates range from 7.5 to 18.5 fl.oz. per acre depending on soil type and conditions.  It performs best when applied to bare ground or mixed with a post-emergent herbicide to eliminate existing weeds.
Marengo should be applied as a broadcast spray over ground areas and as a directed spray for field grown ornamentals.  Fall applications have shown excellent weed control through the following spring season.
Marengo will be packaged in one-half gallons, packed 4 to a case.
For information on current state registrations, click here.
OHP is a leading marketer of pest and weed control solutions to the production ornamentals market.
(Marengo is a registered trademark of Bayer.)
Tags:
herbicide
,
marengo
,
new MOA
,
OHP
,
season long control